If you are the only one user uses your password-protected Windows Vista computer in your home, do you feel tired of being asked to enter your Vista login password every time? Yes, I believe many people would have the same feeling. Then have you ever wished to bypass Windows Vista password? In that way, your computer will automatically skip Vista login screen every time you start the machine and ensures you a quicker boot time. If you don't how to make it, then I will show you how to make it.
Bypass Vista login password by removing Vista password from "Control Panel".
If your computer can skip the Vista login screen, then it will automatically log you on and of course you also won't be asked for a password every time you log in. Please follow the below steps to make this come true:
Step1: After log in, go to "Start >> Control Panel".
Step2: Click on "User Accounts and Family Safety >> User Accounts" option. Then select the user account whose password you want to bypass.
Step3: Now click "Make changes to your user account". Then select "Remove your Password".
Step4: Now enter your current password and then click on "Remove Password" to confirm.
Step5: Now you can test it out by simply restart your PC. When you do, Windows Vista should automatically log you on.
However, there are times you may forget your Vista login password. At this time, you have to figure out ways to recover Vista password, otherwise you will be locked out from your PC. If so, you should have a professional tool to help you finish Windows Vista password bypass. Now please just follow the below guides:
Step-by-step guides on bypassing Windows Vista password when it is forgotten
Step1: Find a professional and credible bypass Windows Vista password tool. Here I trust Windows Password Recovery Tool Standard.
Step2: Quickly download and install this tool on to an accessible computer.
Step3: Get a bootable Vista password reset disk. After running the tool, you will see a new interface as below. Then you can follow the wizard on the interface to get a bootable CD or DVD which is exactly the Vista password reset disk. (Note: You should prepare for an empty and writable CD or DVD, then insert it to the running computer.)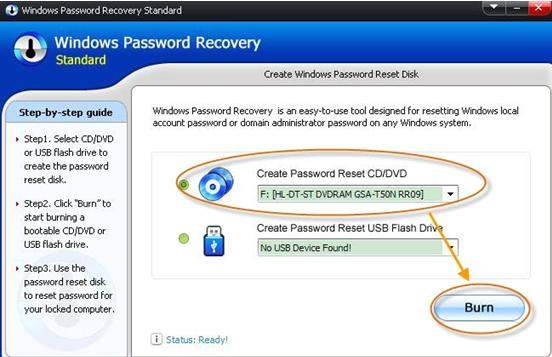 Step4: Boot your locked computer with the bootable CD or DVD. After the bootable CD or DVD created, insert it to the target/locked PC and start it to the Boot Device Menu. Then set the PC boot from CD-ROM there. After that, press F10 to save and exit. Soon the computer will automatically reboot.
Step5: Bypass the forgotten login password for your Windows Vista machine. Now it is quite easy for you to proceed since Windows Password Recovery Standard can almost do all the left things for you automatically, all you need to do is just to follow the wizard with only several clicks of button on a new interface which will occur after the PC boots.
Have you gotten the exact ways on how to bypass Windows Vista password? Pretty easy If you are still doubtful about that, why not download the free version of Windows Password Bypass Tool Standard first and take a try to see if it really works?
Free Try Windows Password Recovery Tool
World's 1st Windows Password Recovery Software to Reset Windows Administrator & User Password.
Free Download
Free Download