How to Reset Lost Password for Acer Aspire One

2011-07-13 12:16:22 / Posted by Shawn Hamilton to Windows 7
Follow @ShawnHamilton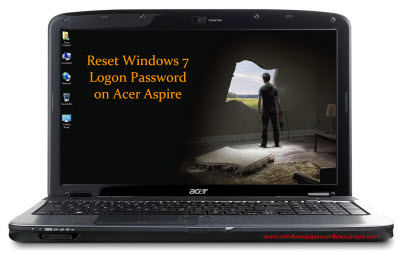 I forgot my administrator password to my Acer Aspire. Is it possible to reset password for Acer Aspire? The answer to this question is definitely yes. The article below shows you two methods to perform Acer password reset.
Method 1. Reset Password with Acer Password Hack Software
You should promise that this program only be used on your own computer, never try to use it to hack other person's login password without permission. Remember this? Then follow the guide to check how to do Acer Aspire one password reset and Acer Netbook password reset.
1

Create an Acer Aspire password reset disk

Download Acer Password Hack and install it in any accessible computer. Launch the program. In the main interface, you are allowed to create a password reset CD/DVD or USB drive. Insert a blank CD/DVD or USB Drive to the computer, select it and then click "Burn" to start creating.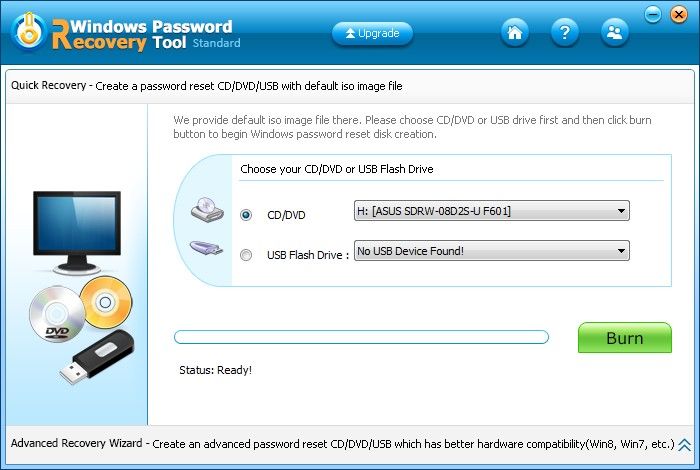 2

Boot Locked Acer from CD/DVD or USB Drive

Insert the newly created CD/DVD or USB drive to the inaccessible computer, change the BIOS setting and make it boot from CD/DVD or USB Drive.

3

Remove Lost Acer Windows 7 Password
3.1. You will see the interface Acer Password Hack here. Select Windows 7 operating system and click "Next" to continue.

3.2. All users account will list there. Check the user account you have lost the password and then click "Next".

3.3. The password will be removed in no time. Click "Reboot" button to restart the computer and log on PC without any password. Before booting up, please take out the CD/DVD and USB drive from the computer.
Tips
:
| | | |
| --- | --- | --- |
| Acer Aspire V5 | Acer Aspire V3 | Acer Aspire E |
| Acer Aspire Note | Acer TRAVELAMTE P | Acer TRAVELAMTE B |
| Acer TravelMate X | Acer Aspire S7 | Acer Aspire S5 |
| Acer Aspire S3 | Acer Aspire M | Acer Aspire One |
Method 2. Bypass Acer Aspire Password with Password Reset Disk
Have you got a recovery or password disk when you purchase the laptop? If so, you can follow the tutorial below to bypass acer aspire forgot password.
1. Windows will display a message says the password is wrong if you enter the wrong password when you attempt to log on. When you see that message, click "OK" to close the message.
2. Click "Reset password", and then insert password recovery disk to your Acer computer.
3. Follow the steps in the Password Reset wizard to create a new password.
4. Log on Acer computer with the new password.
Free Trial Windows Password Recovery Tool:
comments powered by