A Few Tips for You if Lost iPhone Backup Password on Mac

2012-10-30 11:23:12 / Posted by Shawn Hamilton to iPhone Backup Password
Follow @ShawnHamilton
Lost the iPhone backup password on Mac and within that backup you have some very important notes and contacts? This may be an annoying scene in our daily life, which brings us so much trouble. However, nothing is impossible for a creative mind. There must be a way to help you out of this miserable situation. Here I'd like to offer you some tips on how to recover lost iPhone backup password on mac.
Free Trial iPhone Backup Unlocker:
Tip I. Using Key Chain Method to Find iPhone Backup Password on Mac
1. Open the Keychain Access utility from /Application/Utilities.
Then make sure that on the left side "All items" is selected under categories.
2. Enter "iphone" in the upper right of the interface and then look for a keychain item named "iPhone Backup". If there is no such item, you´re mostly out of luck.
3. Double click on the "iPhone Backup" entry and in the new window that will open, click the "show password" checkbox.
4. You will then be asked to enter your password (the one your user has on your Mac) to show the iPhone backup password; click Allow (once). And the iPhone Backup password on Mac will be revealed in clear text.
Tip II. Find iPhone Backup Password on Mac with Help from Windows
If Tip I doesn't work you still have another way which is aided by a password recovery tool called Mac iPhone Backup Password Recovery, which has a superb performance in recovering backup password for any iOS devices including iPad, iPhone and iPod touch. The program currently supports all the Windows operating system, as a result we need to first find iPhone backup location on Mac, and then move the folder to Windows for decryption.
The location of iPhone backup on Mac: ~/Library/Application Support/MobileSync/Backup/
The "~" symbol stands for your home directory which is the same place where all your other personal documents are stored.
After removing iPhone backup to Windows, download and install iPhone Backup Password Recovery to this Windows computer and launch the program. Next you could use three simple steps to recover lost iPhone backup password.
Step 1. Import iPhone Backup Key Container File
Press "Open" and lead the program to the folder that stored iPhone backup files, and then the program will automatically detect and find directory of the key container file for you. You only need to click the file to finish the importing.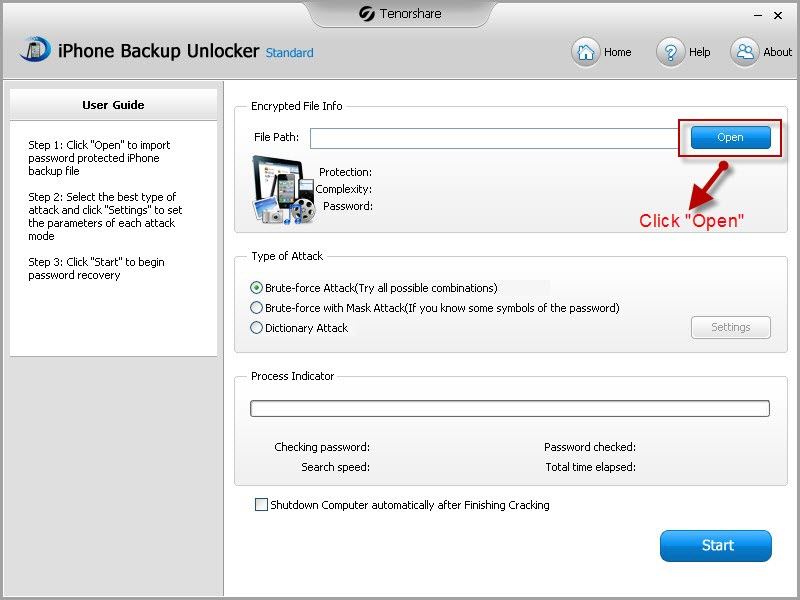 Step2. Select an Attack Type and Define the Settings
Before allowing the program to start finding your lost iPhone backup password, you need to select an attack type. Mac iPhone Backup Password Recovery offers you three types of attacks which are shown in the picture below.

After this you are required to define the specific items of the attack you've chosen, such as password length, character range, etc., which will help to speed up the decryption process.
Step3. Click "Start" to Find the Lost iPhone Backup Password
All set click "Start" on the bottom of the interface to initiate the program. And in a few minutes you will see your iPhone backup password on Mac in a pop-up window.
Free Trial iPhone Backup Unlocker:
comments powered by