How to Find forgotten Password to Unlock iPhone 3GS Backup File

2013-01-20 7:15:57 / Posted by Shawn Hamilton to iPhone Backup Password
Follow @ShawnHamilton
iOS devices really enjoy great popularity for it brings to us friendly experience and great convenience. It has become an indispensable fabric of our daily, we use them to record our life by taking photos, to keep us connected with our friends and outside world and to entertain ourselves by playing games on them, we also read, listen to music via these iOS devices.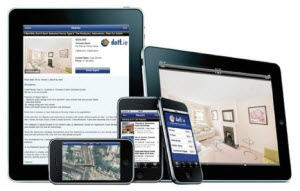 For the sake of security, we'd better backup photos, contacts, saved games, etc with iTunes so that we able to get all those old data back though a backup restore in case something happens to our iPhone/iPad/iPod. However, there's a universal problem in iTunes backup restore, which is iTunes asks for a password they forgot or don't recall setting.
In this article, we'll take iPhone 3GS as an example, and discuss under which circumstance we should backup our files and how to deal with iPhone 3GS backup password problem.
How to Find or Unlock iPhone 3GS backup password
When iPhone 3gs backup password not recognized, there are two situations you may encounter.
Free Trial "iPhone Backup Unlocker" to Decrypt iPhone Backup Password:
Situation 1: Lost or Forgot iPhone 3GS backup password.
You checked "Encrypt iPhone 3GS backup" when you backed up your files back then but now you can't remember it or lost it.
Situation 2: iTunes asks for a Backup Password never Set
You never checked "Encrypt iPhone 3GS backup", but iTunes still asks for a password. You are really at a loss why there's iPhone 3GS encryption backup password.
Don't worry, whether you forgot/lost iPhone 3GS backup password you set before or have no idea what's going on. There are two solutions you may want to give a try to unlock or find iPhone 3GS backup password.
Method 1: Try all the possible passwords that could relate to iPhone 3GS backup encryption password:
Default password: 0000, 1234, 9999.
Apple ID password.
iPhone 3GS passcode.
iTunes password.
If this method didn't work out, don't give up, you can turn to iPhone 3GS Backup Password Unlocker to do an iPhone 3GS Backup Password recovery. Check out method 2.
Method 2: Use third-party tool to break iPhone 3GS backup password, download it first and run it.
Make sure your iPhone 3GS backup file is available on the same computer you are having access to. And do as following 2 steps.
1

Step 1: Import iPhone 3GS Backup File and Choose one Type of Attack

Click "Open" to add your iPhone 3GS backup file, iPhone 3GS Backup Password Unlocker will locate the directory of your backups automatically. You'll see three types of attack listed under "Type of attack". Choose your ideal type accordingly.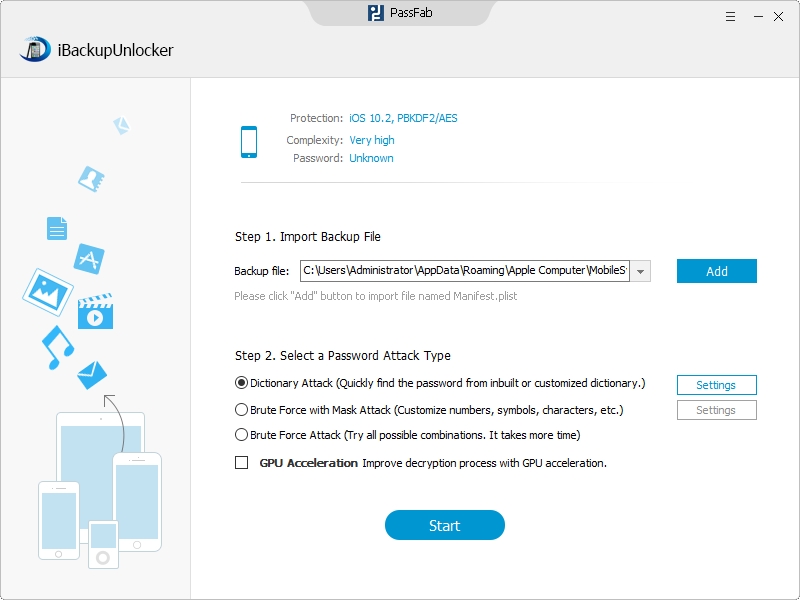 1). Choose "Brute-force Attack". This would be your ideal choice if you forgot your iPhone 3GS backup password completely.
2)However, if you have impression on your forgotten password or have a self-created dictionary of passwords, choose "Brute-force with Mask Attack" or "Dictionary Attack" respectively and define parameters by clicking "Settings".
2

Step 2: Start to Find Password to iPhone 3GS Encrypted Backup File

After choosing one particular type of attack, you should click "Start" to initiate iPhone 3GS backup password recovery. You should be seeing your lost iPhone 3GS backup password in several minutes.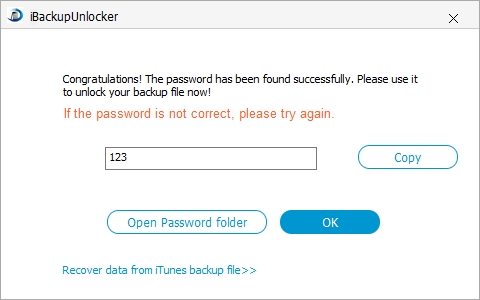 With retrieved iPhone 3GS encrypted backup password, you are able to remove or reset iPhone 3GS backup encryption password by connecting your device, unchecking "Encrypt local backup" or clicking "Change password". Good luck!
All operations applied to iPhone 3GS are also applicable to all versions of iPhone, iPad, iPod touch as well as other iOS devices.
Download iPhone Backup Unlocker to Recover iTunes Backup Password:
comments powered by